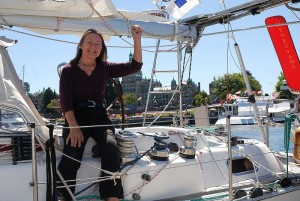 In an extreme case of a nice elderly lady wandering away from home, 70-year-old Jeanne Socrates has become the oldest woman to sail around the world, solo, without stopping.
The grandmother from Ealing, west London, completed her circumnavigation last week, when she docked her 38-foot yacht Nereida back in Victoria, B.C., after 259 days at sea. This was her third attempt, following a 2009 trip that was cut short for needed repairs in Cape Town and a 2010 trip, during which her boat was badly damaged during a knockdown off Cape Horn.
Her achievement is even more notable because she didn't learn to sail until she was in her 50s.
The voyage was marked by several close calls, including a near roll-over that damaged her radar, her rudder and the wind-generator that powered her heater. Luckily, she was able to make repairs after the weather cleared. Armchair adventurers can read her log entries here. Her web site has background information and photos. Definitely worth a look.
Socrates, a former math teacher, focused on cruising and round-the-world travel after her husband died of cancer in 2003. Through her voyages, she is raising money for Marie Curie Cancer Care, a British program that provides free home nursing for terminally ill cancer patients.
Photo of Jeanne Socrates via her web site.