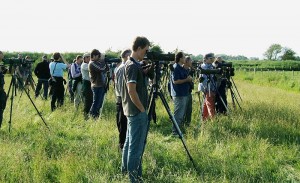 Mark the date and time: with this post, bird-watching shows up on our radar as a bona fide recreational pursuit for over-50s.
We used to think of this as a hobby, but it seemed to lack the physicality we seek in recreation. Also, no gear, no cool jargon, no bracing risk of self-destruction. How wrong we were. This article in Macleans points out that it has all that. And birds.
It starts with an invasion of birders—"a middle-class flash mob"—descending on the small New England seaside town of (we kid you not) Loblolly Cove. The thousands have massed, traipsing the fields and  braving the elements to get a glimpse of a single species, the spotted towhee, which has drifted far, far off course due to, let's say, a disturbance in the climate. (At this point, yes, it's like a Stephen King novella.)
There's plenty of gear: cameras, tripods, "$5,000 binoculars," and of course Gore-Tex and Thinsulate to ward off the cold and wet of springtime in Loblolly Cove. And plenty of recondite terminology, from the Latin names of species to their common names (e.g., the "Asian falcated duck") to the very name of the pursuit, which the English call "twitching."
And if you are worried that it lacks danger, consider this: a horde of fanatics swoops down on a tiny village, shoving each other aside to see a tiny bird. The crowd sometimes move as one, like Grateful Dead fans except they are ornithologically obsessed, and they frequently insult each other's claims and expertise–you get the idea. If you can't imagine the frisson rolling off a mob of trash-talking twitchers, ask someone to check your pulse.
It has what we love. No wonder it's booming among boomers: "A 2006 report by the U.S. Fish & Wildlife Service noted that more than half the 48 million birders in America were over the age of 45, and nearly two-thirds of that group were 55 or older. And their numbers are on the rise: birding is now America's second-fastest growing outdoor recreation, right behind gardening."
But we hesitate. Is it really outdoor recreation if a bunch of crazies jam into a confined (albeit open-air) space to watch something fly around and around?  If so, that means NASCAR qualifies . And it doesn't. That said, we still think the birders bear watching, if only for the irony.
( Also on the birding front: the L.A. Times has a piece on how this year's weird weather is affecting outdoor recreation in California. Hikers will enjoy early access to higher elevations, but river-rafters and kayakers will have fewer options. And birders could find that popular wildlife refuges have dried up.  Less water=less vegetation=fewer insects=fewer birds.)
Photo of birders at Caerlaverock, watching Britain's fifth White-tailed Lapwing (2007) by MPF via Wikimedia Commons