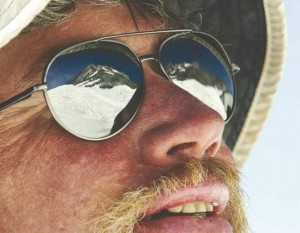 There's a point where the guy with an awesome idea becomes the guy with the epic ambition. And another point where his epic ambition becomes his white whale, his Daisy Buchanan, his driving and terrifying obsession.
We're not sure where Rainer Hertrich lands on that spectrum. At the moment, we're leaning toward the awesome end, because we're frankly envious. The 50-year-old snowcat operator has already safely achieved a Guinness record for "Accumulated Vertical Descent in Consecutive Days on Telemark Gear" and is on his way to an astonishing milestone (skiing 100 million vertical feet).
In fact, he hasn't received his Guinness certificate. That won't happen until he sets the record, and for that to happen he has to take a day off. Which he hasn't for the past 2,929 days.
When the weather warms up around his base at Colorado's Copper Mountain, Hertrich follows the snow to Mount Hood, Ore., and then moves south to ski areas in Chile. "He does a pre-dawn run at Timberline's closing day, usually around Labor Day, and books it down to Chile where he immediately seeks out the nearest ski resort," according to SummitDaily.com.
There's also a good though slightly dated Q&A with Hertrich on the ESPN site. (The piece references a blog Hertrich kept on the Suunto watch company's web site—he wears three of their altimeter watches to track his vertical feet—but that seems to have been discontinued.)
To date, he's logged 95 million vertical feet since he started his streak. Do the math: that's over 10 million vertical feet a year. That means that he'll hit the 100-million mark sometime this year.
We are left with three questions:
Hertrich has been running a snowcat for 29 years. So, how much money do snowcat operators make? Traveling around the world and skiing every day seems like an expensive life's work.
Is there a Guinness record for drinking Guinness? This has nothing to do with Hertrich, except that neighbor Jeff mentioned it while ruminating on Hertrich's accomplishments.
Is telemark skiing appreciably easier on 50-year-old knees, compared to alpine skiing? Or cross-country skiing? We are reminded of a line from the movie The Prestige: "Obsession is a young man's game."