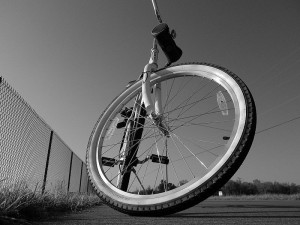 Human bodies age like a saddle: they get comfortable and develop character, but they also start to break down.
The older they get, the more problems they have, one of which is Parkinson's disease. An estimated one percent of people over 60 are affected by this degenerative nervous disorder. Those estimates vary because it's a tricky condition to diagnose but, says the Michael J. Fox Foundation, "recent research indicates that at least one million people in the United States, and more than five million worldwide, have Parkinson's disease." What's not controversial is that it's more common now in developed economies, as their populations age.
(BTW, the Foundation's website says it has funded $325 million in research, which is pretty astonishing.)
It's been known for a few years that patients with advanced symptoms—like an inability to walk—can still handle handle-bars. It reminds one of stutterers who can sing without a flaw; once they are helped on a bike, some Parkinson's sufferers can pedal for hours and miles every day.
(One of the early discoverers is Dr. Jay Alberts, who did the cross-Iowa RAGBRAI event in 2003 with a Parkinson's patient. After the trek, he tested the patient and found her symptoms as measured by the standardized testing method had "decreased by nearly 35% compared to her scores approximately six months earlier.  While on the 2003 trip, Dr. Alberts also noticed that [the patient's] tremors had improved and her handwriting seemed to be larger and more legible."
Now a Sarasota, Florida nonprofit is conducting research that it hopes will "quantify what so far has been anecdotal evidence that twice-weekly cycling sessions at top speed can soften or delay many symptoms of the disease," according to the Herald-Tribune. While they have yet to analyze the data, the researchers are confident that a connection exists between cycling and a reduction of symptoms. They don't "know why these improvements occur or how long they might last" but any change is welcome in a disease that is both devastating and incurable.
Interested? Here's another article on Parkinson's sufferers riding the annual Seattle to Portland Bicycle Classic.