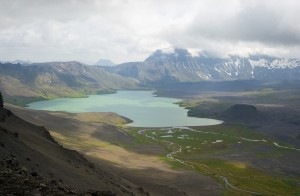 You've got two weeks off, America, and there's gas in the station wagon. The tent is packed, along with your camp stove and a jug of DEET. You were thinking of maybe Yellowstone or Yosemite. But now you're anxious, which is exactly how you're supposed to start your vacation. But this is a more acute kind of anxiety. Because of the sequester.
Staffing is down, you've heard, and maintenance has been put off. Lines are longer. There are fewer staff and park police to help you. More rattlesnakes and stale Coke in the vending machines.
In fact, we're not sure how bad it will be. Yellowstone is always a traffic jam in July. Every year, the Great Smoky Mountains get millions and millions of visitors. The sequester isn't going to make these places hot and crowded and filled with short-tempered parents and their provoking children; it will only make them moderately more so.
But still, if it's a quiet communing with nature you're after, you have options even now, today, during the dreaded sequester. There are plenty of parks and nature preserves that few people visit. It just takes a bit of extra planning and maybe a few dollars more to get there.
Case in point: Alaska's Aniakchak National Monument & Preserve. It's big (roughly 600,000 acres). It's got dramatic waterfalls and an awesome six-mile wide, 2,500-foot deep caldera. And it's not crowded—in 2012, it got 19 visitors. Nineteen.
OK, there are downsides that might explain why no one wants to visit. Like the "notoriously bad weather" that the National Park Service feels obligated to mention on its web page, which is supposed to promote the place. The NPS also mentions that the place is "unpredictable," which could mean just about anything, but might mean a volcanic eruption, like the one in 1931 that was heard 200 miles away and dropped ash on distant villages (about 65 miles away) at the rate of one pound an hour.
To the rotten weather and the volcano risk, add this: it's very hard to reach. There are no roads. You can get there by floatplane or by boat. And the amenities are sparse. In fact, there are no amenities. The monument has no permanent facilities. No visitor center. No campgrounds. No place to get the batteries you forgot to pack. The nearest outpost is King Salmon, about 130 miles away.
The lesson here is that if there are no services, there is no sequester. But a place like Aniakchak puts into perspective how much you really care about that wait, that minor inconvenience, that traffic jam in paradise.
For the full list of visitation statistics for NPS properties, go here.
Photo: Surprise Lake, Aniakchak National Monument and Preserve, from the rim of the crater, via NPS.