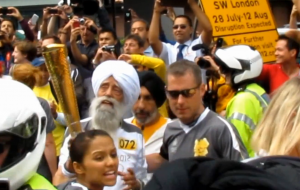 We are carrying a bit of a torch for Fauja Singh, the Punjab-born, 101-year-old marathoner and ginger curry aficionado. And on Sunday, he carried one for us.
Dressed in white, surrounded by a cheering throng of his fellow Sikhs and other admirers, Singh  bore the Olympic flame along a section of the torch's route through the streets of London. This isn't his first moment of Olympic glory; he also carried the flame through the streets of Athens in 2004. And he's already declared his interest to help out in 2016, down in Rio, when he'll be 105.
This is all good news, deserving of mention, and a homespun respite from these highly corporatized games, with their purple-capped enforcers, charged with "with protecting exclusive marketing deals between the Games and its multinational sponsors."
Still, the "Turbaned Tornado" is at risk of being over-exposed. This better be the last good reason to talk about him for a while…but it might not be.  He's retired from marathons so he probably won't break his own record (7 hours, 49 minutes) for a marathon by a centenarian. But a while back, Singh expressed interest in climbing the 101-story Taipei Tower sometime this year. So that would be a 101-year-old guy climbing a 101-story building. And that would be something.
Photo screen grab of Youtube video by SaintSoldier1699.