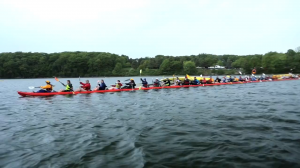 L.L. Bean turned 100 in 2011 and even though we've turned all the pages in the calendar,making it 2012, the company continues to celebrate.
Fair enough. Turning 100 is kind of a big deal. And the celebration isn't just an exercise in corporate vanity. Bean is also sponsoring the Million Moment Mission: every time someone shares an outdoor moment–posting a family photo or memory on the company site, tweeting "from a mountaintop," or simply hitting "like" on Facebook–the company gives a dollar to the National Park Foundation's programs for kids.
And, in particular, there should be no carping when a celebration is marked by something as preposterous as the 407-foot, 100-person kayak, created using extra middle parts from a  modular kayak made by Point 65N. The company thinks its a world record. They've applied to Guinness, blah blah. Yeah, it's a world record.